Farm Museum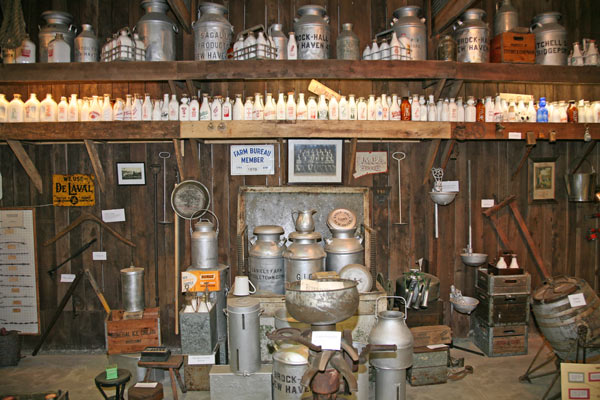 Step inside the Durham Fair Farm Museum and amid our vast collection of antique farm equipment and collectibles you will be transported back to a time of hand-cranked tractors, blacksmiths, and pot-bellied stoves. Our collection is priceless—we hope you will enjoy it as much as we have enjoyed presenting it to you.
The Durham Fair Farm Museum was started about 30 years ago. All of the items in the collection have been donated over the years. It has collections of equipment, tools, belt pulley engines, and implements that were typically found in the 1900s on different types of farms and farm houses. There are displays focusing on milking, beekeeping, raising chickens, logging, harvesting of large and small crops, ice harvesting, to name a few.
The Farm Museum continues to maintain and restore tractors and equipment year round including a recent acquisition of a 1930 John Deere GP tractor, which will begin its restoration this year.
Inside the Farm Museum
Continuous Blacksmith demonstrations all weekend.
Demonstrations next to the Farm Museum at 11:00, 2:00 and 5:00 every day: Pulley Driven Antique Farm Equipment including Corn Grinders, Hay Press, Lime Crusher, Corn Chopper, wood saw, and one lunger engines.
Exhibit Highlights
A collection of over 850 milk bottles from farms in Connecticut.
The oldest tractor is a circa 1920 Centaur.
It has a steam engine that came from the Rusconi sawmill in North Guilford.
It has a working Blacksmith shop and a carpenter who demonstrates older woodworking skills.
The Collection
The collection contains a large variety of antique farm equipment from the 1900s including:
25 DFA Posters
Farm Kitchen area
Mechanics shop
Beekeeping supplies
Water Pump from the old Durham Viaduct
Dairy/Milking equipment
Logging tools
Ice harvesting equipment
Large and small garden implements
Wheat Threshers
Chicken/Egg farming
Cobblers tools
Apple harvesting tools
Horse sleighs, saddles, etc.
Ox Yokes
Farrier's tools
Slaughterhouse wheel
Many old signs depicting dairy companies
Local stores and businesses
Chainsaws
Lawnmowers
Horse drawn buggies
Early Americana working miners display
Restored hay press (old hay baler)
Unadilla Silo sample
The Brookfield Farm Wagon (on display in the F & V dept.)
Numerous other implements and old equipment (horse drawn and tractor pulled)
Pulley run equipment
Over 30 restored or unrestored tractors
Display of local farm histories